Hati hati sewa kereta di UK. Perkongsian ini aku dapat dari Group BBM. Sis Nadia dan juga Police UK suruh kita war-warkan untuk kesemua pelancong ke UK agar memilih syarikat sewa kereta yang betul.
Luahan dan perkongsian ini sebijik sebijik saya ambil dr group BBM, untuk perkongsian diblog saya sebab ada banyak carian percutian di Kota london. In fact aku pun ada nak kongsikan pengalaman sewaktu di Cappadocia dan Bosnia baru baru ini. Tidak seteruk ini tapi something yang korang boleh belajar dari perkongsian aku nanti.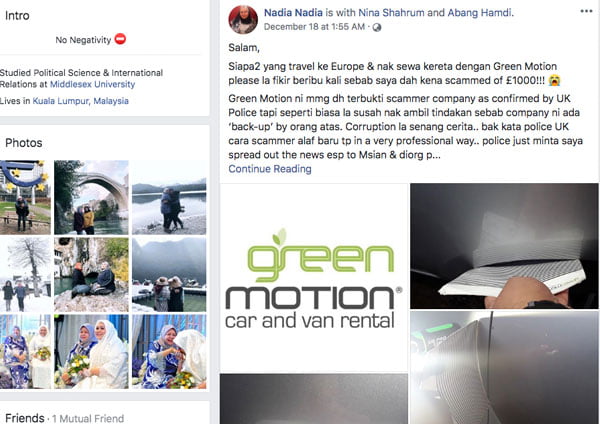 Perkongsian dari FB; Hati hati sewa kereta
Pesanan sis ida, Siapa2 yang travel ke Europe & nak sewa kereta dengan Green Motion please la fikir beribu kali sebab saya dah kena scammed of £1000!!! 😭
Green Motion ni memang dah terbukti scammer company as confirmed by UK Police tapi seperti biasa la susah nak ambil tindakan sebab company ini ada 'back-up' by orang atas.
Corruption la senang cerita.. bak kata police UK cara scammer alaf baru tp in a very professional way.. police just minta saya spread out the news esp to Malaysian & dia org pesan kalau nk rent car pls rent dgn International. company (Avis, Sixt, Hertz & so on..).
Jangn rent dgn local company sebab kat UK ni antara negara yg paling famous dgn scammer juga according to them.
Mmg byk reviews negative (am not the only one yg kena) & memang silap kita la juga tak selidik dulu tapi mana la nak tahukan sebab i booked from Ryanair website.
Utk further details korang boleh baca emailed yg saya dh sent for dispute kat bawah ni.
FYI juga, saya bought direct insurance dgn Green Motion tapi katanya tak cukup juga utk cover the calar balar yg sudah tentunya bukan saya yang buat.. jadi mereka tetap ambil deposit.
Kalau £100 boleh pejam mata lagi.. ni £1000 kot!!
Anyway korang tgk la gambar2 yg diorg emailed konon calar tu. Kot ye pon kalau calar dgn insurance yg ada pon xcukup ke nak cover?! Pfttt.
Yang video tu pula yg saya record semasa return kereta.. as you can see takde pon calar mcm dalam gambar tu kan.
Dah 11 yrs saya started to travelled actively & since then saya menyewa kereta tapi tak pernah pula kena mcm ni.. dugaan betul.
Now saya just minta jasa baik BBM semua utk doakan saya agar dpt semula deposit of £1000 tu. Amin..
Feel free to share ye anyone. Tq sgt2 🙏🏼🙏🏼🙏🏼
korang boleh jenguk terus FB sis nadia ni nanti.
I am writing to dispute the transaction for £1000 (RM5602.46) from Green Motion Heathrow Reigate GB, dated 6th December 2019.
This transaction involved a £1000 deposit for the car i rented in Heathrow Branch (London, UK) starting on 1st December / 19:00 until 6th December 2019 / 19:00 (5 days).
When returning the rented car, Green Motion (GM) claimed that there were new scratches & dents on the car's side door (sliding door) & front bumper (current damage as marked on rental agreement) which was untrue and easily proven by a video that I took of the car upon its return to Green Motion (please refer to the attached video herewith).
I was disagreed and requested for further investigation but a few days after, GM emailed me the total repair charges and deducted my deposit straightaway.
There were scratches and dents surely but those are pre-existing, before the car was handed to me.
GM sent me photos of the so-called scratches and dents which were not in sync with the video recording of the car that I had made upon its return to GM.
To-date, I have not received further information from GM (neither formal/original invoice nor receipt for the charges on the so-called damage).
I doubt that GM has inspected the right car, as evident from my video evidence. My suspicions on GM's dishonesty is further amplified upon my research and discovery of other similar victims of GM's dishonesty at this same location. You can refer to these listings (these are just a few examples):
Facebook: Green Motion Customer Comment – International, Class Action Against Green Motion
There are also hundreds of negative reviews/ comments on Trip Advisor & Google mentioning that this company is a scam company.
GM services were offered directly from RyanAir website for car rental services and it was via this channel that I have been unfortunately routed to GM for car rental services.
I have also lodged a report to the authorities in UK – BVRLA & Action Fraud (Police UK) on this scam from GM. The police officer (Bala Kumaran) of Wembley Police Station, London had advised me to file a report with Small Claims Court.
I am enclosing copies of all documents to support my transaction dispute herewith. Please do the needful and reverse this billing of £1000 (RM5602.46) as soon as possible.
Thank you for your kind support. I can be contacted at +44 (as i am still in London) or email me for further information, if any is required.